Affordable Timing Light for Toastmasters
Oct 20
I no longer have any of these kits. If you want to make one yourself, you can follow the instructions here:
how to make your own timing light kit
. However, today I feel using one of the many smartphone or tablet timing apps is a better experience. Having it change timing signals by itself is very handy!
The Timing Light Problem
Green, Amber (Yellow), Red signals are commonly used in Toastmasters clubs so show speakers when they have reached minimum time, are halfway through their alloted time, and when they have reached maximum time. Many clubs use a set of colored cards–some Toastmasters even carry small colored cards in their wallets for impromptu Toastmasters meetings!
But cards have to be held up in the air and are not very eye-catching. Timing lights are preferred, where actual green, amber and red lights can be turned on and get the speaker's attention. The official Toastmasters Signal Light costs $185 (and that's the discounted MEMBER price!). Oh, but wait–they have another signal light just for the frugal ones among us… only $65. Plus shipping and handling. Unfortunately, even that is beyond the fiscal capability of most non-profit clubs… and then there are people like me who just put their foot down at the idea of paying over $50 for three colored lights bulbs and a switch.
I've seen about 20 Toastmasters clubs now and have never seen one of the Toastmasters International lights being used. I have seen a variety of homemade signal lights used, but not every club has people who can do that.
The Timing Light Solution
After much searching, and with assistance from the Toastmasters International group on LinkedIn and stellar Toastmasters like Amy and Linda Stough, there is now an affordable timing light solution. It's a remote-controlled color-changing light bulb that fits in any standard socket, but needs little power. The remote turns the light on and off, adjusts brightness, and can set it to any of 16 colors–although I suspect you'll only care about Green, Amber and Red, unless your club is very open to experimentation!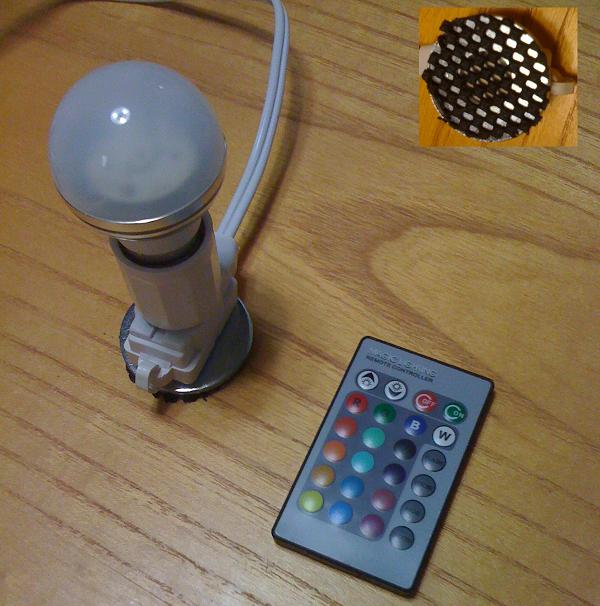 We have carefully packaged 20 of these with everything you need–just plug it into an outlet and start using it at your next meeting! It's a good thing we provided a case to store it in… this light is so small it's easy to lose, but it's bright enough to be very easy to see. Each one includes:
The remote-controlled color-changing LED bulb
One remote (with battery)
One spare CR2025 battery
Bubble wrap (to protect the bulb in storage and transit)
Instruction sheet for how to use the device and when to show green, yellow and red signals for speakers
12′ power cord, fastened to a sturdy base with a non-slip mat on the bottom
Socket (but feel free to be adventurous and try the bulb out in any standard lamp)
Sturdy case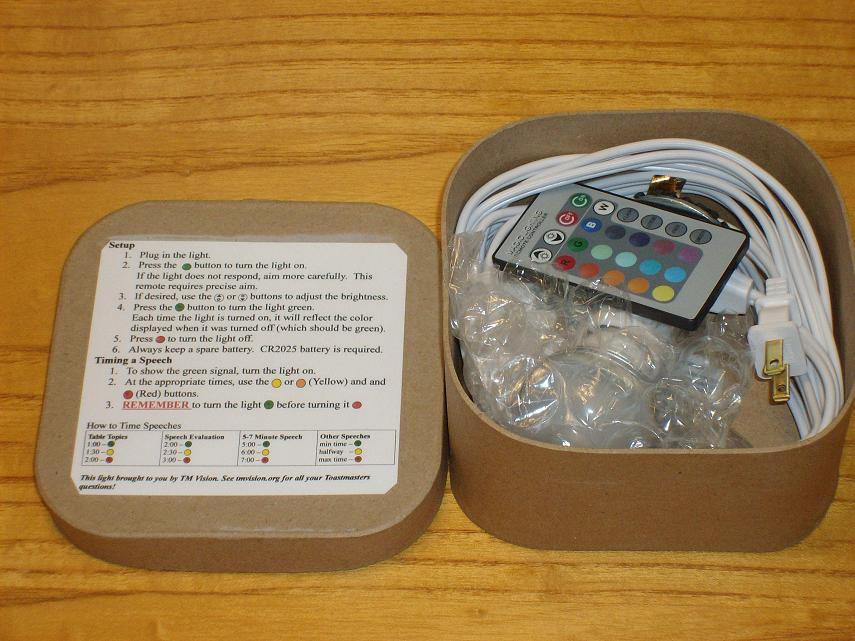 Ordering
This solution has finally reached that important milestone–this light is only $25 and is the most affordable quality timing light for Toastmasters I have ever seen. Bear in mind that is the cost of materials.
Edit: I sold out of all the timing light kits I have created. If you would like one of these, I have instructions on how to make your own timing light kit.