Podcast episode 7 – Chad Goldwasser
Jan 06
Podcast: Download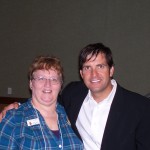 Chad Goldwasser is the founder of Goldwasser International LLC, the parent company of Goldwasser Real Estate and Goldwasser Institute. Goldwasser Real Estate is the number one real estate sales team in Austin, Texas, and was the number one team worldwide for Keller Williams Realty prior to the launch of Chad's own independent brokerage in November 2008. Goldwasser Institute is one of the premiere sales and real estate training companies in the world.
[4-17-12 update: MP3 location changed due to bandwidth concerns]
Early in his real estate career, Chad was introduced to the team concept and realized its benefits. His first full year in real estate, he sold 67 homes which created a solid foundation for growth. Since that year, his career has skyrocketed. He is now influencing and motivating others to become their best. Chad remains active in real estate as he develops the Goldwasser Institute, a teaching and training business designed to educate and inspire others to follow their own dreams and realize their own potential, just as he is doing.
Chad is recognized as a dynamic, experienced, and sought-after public speaker who motivates and enriches lives through his talks about attitude, leadership, and personal growth. Chad's goal is always to leave his audience wanting more by giving them his incredibly high energy and powerfully motivating messages